Everyone's got their own way to relax on the mountain, but a trip to the spa is our favourite path to bliss. Wellness has long been a part of mountain culture, from the historic thermal springs in Austria and Canada, to the everlasting Scandi love of saunas. Check out some of our top ski resort spas…

Courchevel, France
If bigger is better, then the Aquamotion centre in Courchevel takes the crown – at 15,000m², it's the largest mountain waterpark in Europe. Go for a splash in the huge lagoon pool and race down the flume slide. For post-ski pampering, the Aquarelax area has a spa pool, saunas, Turkish baths and an outdoor whirlpool, plus a checklist of treatments and massages. If you haven't had your fill of sporty thrills on the slopes, have a go at indoor surfing. You'll get one-on-one time with a pro as you learn to ride the waves.
Soldeu, Andorra
The spa at the Sport Hotel Hermitage in Soldeu is a five-storey haven – one floor has pools at varying temperatures to soothe and invigorate the body; another is for hydrotherapy; and a third is dedicated to saunas and steam baths. Treatments include unusual offerings like Reiki, a Japanese technique said to de-stress and promote healing. Decorating the space is exclusive artwork by celebrated artist Domènec Fita.
The Hermitage's spa is for over 13s only, so if you've got the kids in tow, stay at the Piolets Park Mountain Hotel & Spa instead. Their contemporary wellness area becomes a family zone for a few hours each day, so little ones can have fun in the pool too.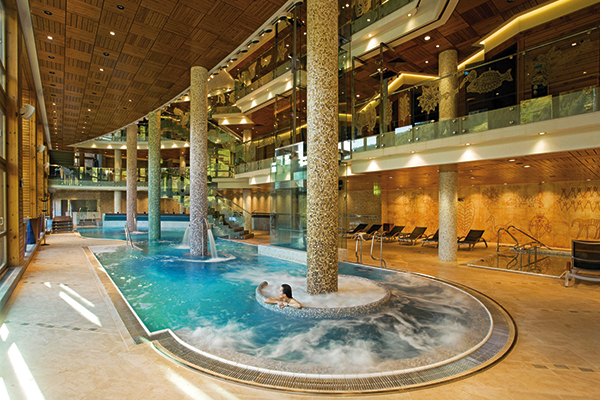 Levi, Finland
With 17 pools, the Spa Water World at the Levi Hotel Spa is a must-visit for water babies. Drift among the massage jets in the main pool, swim laps in the fitness pool, or hop between the side-by-side hot and cold pools, a ritual meant to refresh and relax the body. For a more wintry experience, go for a dip in the outdoor pool or hot tubs – the heated water will keep you toasty even as snow falls around you. And of course no spa in Finland would be complete without a Finnish sauna (or two). The small selection of massages includes the deliciously indulgent chocolate massage.
Selva Val Gardena, Italy
The treatment menu alone may be enough to tempt you into the Paravis Spa at the Hotel Tyrol in Selva. Choose something classic, like a Kraxenhofen steam bath, infused with Tyrolean hay for its calming and anti-inflammatory properties. Or go for Vinotherapy, where you'll bathe in wine before enjoying a grapeseed oil massage, and then sample local wine and cheese. Paravis also has a heated indoor pool, an aromatic sauna built with scented wood and a salt grotto that's said to improve respiratory health.
Banff, Canada
The Willow Stream Spa at the Fairmont Banff Springs has a reputation that's second to none – perhaps unsurprising given than Banff has been famed for its thermal springs since the 1800s. From the mineral pool with waterfalls, to the eucalyptus inhalation room, this adults-only retreat is the place to achieve ultimate relaxation. The exhaustive treatment menu ranges from 30-minute herbal baths to stimulate the immune system, to the 8-hour-long Pure Indulgence Energy Journey, which combines a body polish, massage, facial, manicure, pedicure, hair treatment and even lunch.
Bad Hofgastein, Austria
The Alpen Therme Spa in Bad Hofgastein is four worlds of wellness heaven. It's non-stop fun in the Family World, with slides, a lazy river and a multimedia pool that shows kid-friendly films. The Sauna World is more laid-back – the highlight is the Cascadia sauna, which has a glass front with gorgeous mountain views. Need some girl time? The Ladies World has a sauna, steam bath, infrared cabin and tea bar just for women.
For easy spa access every day, stay at the Hotel Salzburger Hof in neighbouring Bad Gastein – it has a big indoor pool, saunas, a steam room and a whirlpool, plus a menu of mud baths and massages.
As you plan your next sojourn to the slopes, make sure you block out some downtime to soothe those ski muscles. See you at the spa.