With a baby on the way, you might think a ski holiday's out the question – but is it? Whether you booked your trip before you fell pregnant, or just can't bear to miss out on your mountain escape, here are some things to keep in mind.

So can you go skiing when you're pregnant?
There's no one rule that applies to everyone, so as long as you feel comfortable with it, you can ski when you're pregnant. But the NHS does recommend taking caution – especially if you're between four and 13 weeks, when the baby is really developing.
The main risk is if you fall over or someone else skis into you. So if you do head to the mountains, pick a quiet time of the season and stick to emptier slopes with fewer other people around. And if you've never skied before, this probably isn't the time to start – you're more likely to fall over while you're learning the ropes.
If you decide to skip the skiing, there are still loads of other things you can do in a ski resort – like snowshoeing, sleigh rides, swimming, or just sitting in a cosy café and enjoying the view. Take a look at our top ski resorts for non-skiers to find your favourite.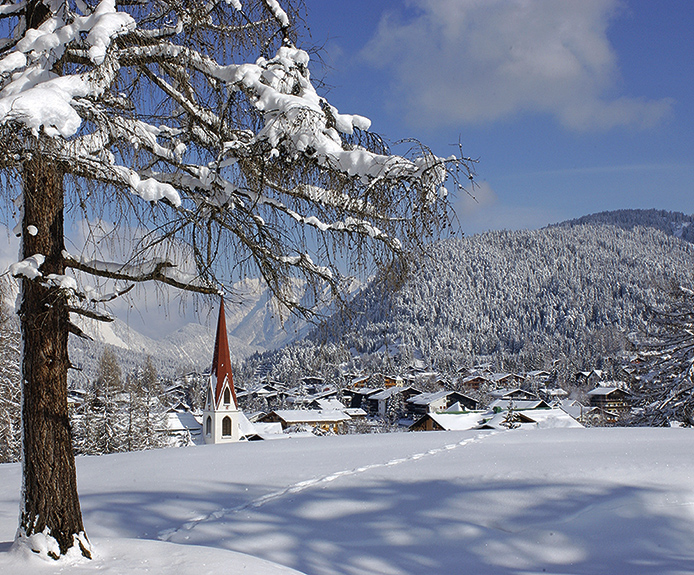 Are there any health benefits?
Exercising while you're pregnant has plenty of health benefits – and exercise doesn't get more fun than skiing.
• Keeping up your fitness levels can help prevent back pain, swelling and bloating.

• Strengthening your muscles and joints can also help your body handle the extra weight of a baby.

• Plus, being in the fresh mountain air can boost your mood and even help you sleep better.
Tips for skiing safely while pregnant
• Go in early or late season when it's less busy, so you can slow down your skiing and have plenty of space to take it easy on the mountain.

• Give yourself time to acclimatise to the high altitude.

• You might feel more tired than usual, so cut down the hours you spend on the slopes and stop whenever you need a break.

• Stay warm and drink plenty of water.

• Listen to your body and make sure you feel comfortable and confident before strapping into those skis.
And of course, if you're planning on going on a ski holiday when you're pregnant, it's always advisable to speak to your doctor or maternity team first.