Pancakes are popular all over the world, and many of our favourite ski destinations have a must-try recipe. At home, most people eat them smothered in lemon juice and sugar on Shrove Tuesday – the day when it's traditional to use up all your rich ingredients before the start of Lent. But this simple mix of eggs, flour and milk can be adapted in lots of delicious ways.

France: Crêpes
Take a break from skiing to snack on an extra-thin pancake filled with sugar, jam or chocolate spread. Or pick the savoury version for a cheap lunch on the mountain – called galettes, these are made with buckwheat flour and can be stuffed with cheese, ham or mushrooms. Crêpes are also a good-luck charm in France. Tradition says that tossing a crêpe in the frying pan with your right hand, while holding a gold coin in your left, will help you get rich.
Austria: Kaiserschmarrn
This thick, shredded pancake is dusted with icing sugar and topped with fruit compote. The original recipe mixed rum-soaked raisins into the batter too. But these days, you can get creative and add anything from almonds to apples. Invented in the 19th century, kaiserschmarrn gets its name from the Austrian emperor, Kaiser Franz Joseph I – it was his favourite dish. Nowadays, it's a staple in mountain huts and makes a great dessert to share. Or you can skip the savoury altogether and have this as your main meal.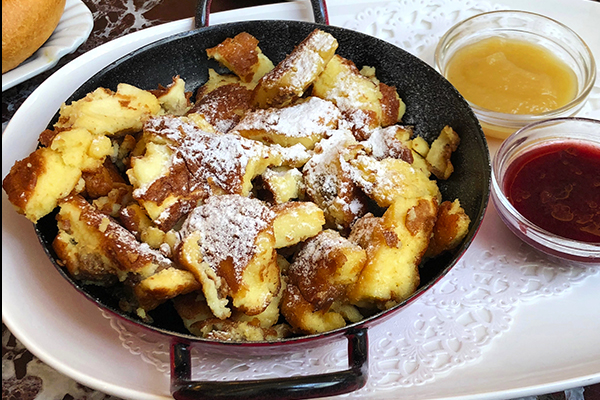 Italy: Crespelle
Italy's version is similar to crêpes but they're often made with chestnut flour to add a hint of nuttiness. Lots of savoury recipes swap crespelle for pasta – they can be rolled and filled with ricotta and spinach, or layered with cheese and meat ragu like lasagne. In central Italy, a go-to comfort dish is crespelle in a bowl of chicken broth. Try your resort's local speciality for lunch on the slopes.
North America: Buttermilk pancakes
What better way to start your ski day than with a thick stack of pancakes from the breakfast buffet? The American recipe includes a raising agent like baking powder to make them super fluffy. They're called different names across the continent – hotcakes, griddlecakes, flapjacks – but they're all equally delicious. Throw in some chocolate chips or blueberries, or add crispy bacon on the side, and smother the lot with maple syrup for a sweet-and-salty combo.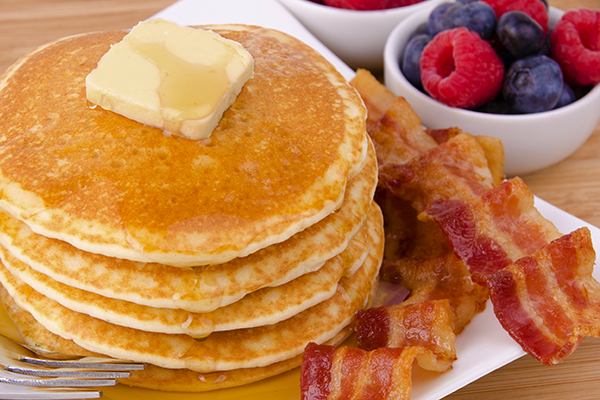 Take a look at our latest ski deals to enjoy your pancakes on the piste.