Snow, smiles and ski school stories – there's nothing more exciting than going skiing as a family. Every resort has its perks but some are more geared towards young families than others. Find out what to look out for when you're deciding where to go, and see our top picks.

What makes a ski resort good for families?
When it comes to choosing a family resort, the right ski area is key. For most families, a smaller one is ideal – younger skiers won't get worn out having to ski too far, and you can also practise the same runs over again to build confidence. If it's your first family ski holiday, a good ski school and nursery area are top priorities, so take a look at our 'best for beginners' resorts. And pick somewhere with other winter activities too, from ice skating to leisure centres, so you can have just as much fun off the slopes.
As for the resort itself, go for one with family-friendly accommodation – whether you prefer a hotel or self-catering apartment – and extra facilities like swimming pools, games rooms and kids' clubs. The perfect place to stay should also be close to the lifts, so you won't have far to walk with your gear.
Our 'best for families' resorts tick all of these boxes, so use that filter on the website to narrow down your search.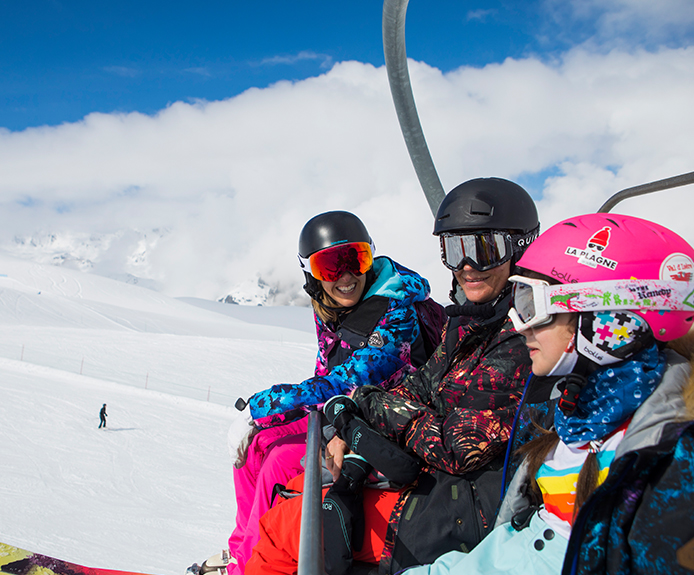 Where to go on a family ski holiday
La Plagne, France
One of the top resorts in France, La Plagne has a great ski school, dedicated beginner zones and tons of gentle runs where kids can build their skills. Our own Crystal Childcare is based in Aime-la-Plagne, so little ones aged 6 months to 8 years can have fun with games, playtime and skiing while parents hit the piste. And when you're not on the slopes, have a go at ice skating, explore an igloo village or see sparkling sculptures at the ice grotto on the glacier.
La Plagne is made up of several purpose-built villages that all have easy access to the mountain. And there are lots of self-catering apartments that are perfect for families who want flexibility at mealtimes.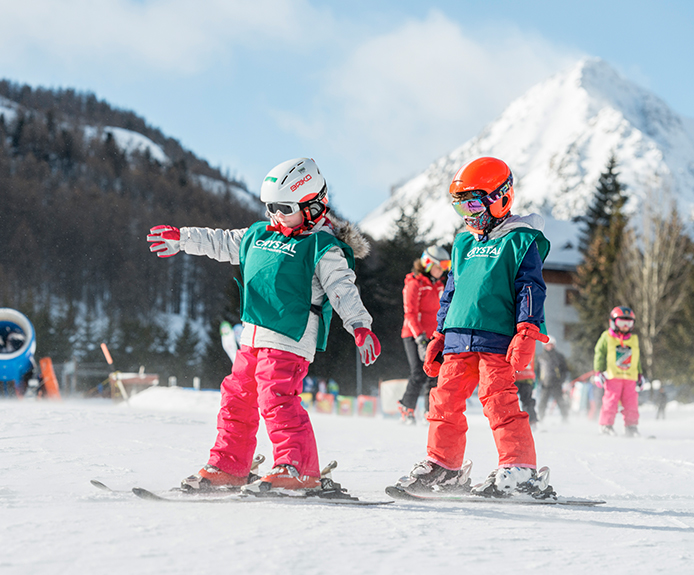 Zell am See, Austria
This lively lakeside town always has lots going on, both on the mountain and off. The Zell am See-Kaprun ski area is superb for beginners and the ski school is one of the biggest in Austria, so they'll have you all swooshing confidently down the slopes in no time. If you can ski already, make a beeline for the fun runs in Schmidolin's Dragon Park – you might even spot Schmidolin himself, the dragon mascot who loves to ski with the kids. There are also loads of other activities to do, from whizzing down the alpine rollercoaster, a 1.3km toboggan track, to cuddling up for a horse-drawn sleigh ride through town.
And speaking of the town, it's got a picture-postcard feel and a big range of places to stay, including plenty of half-board hotels that are ideal for families.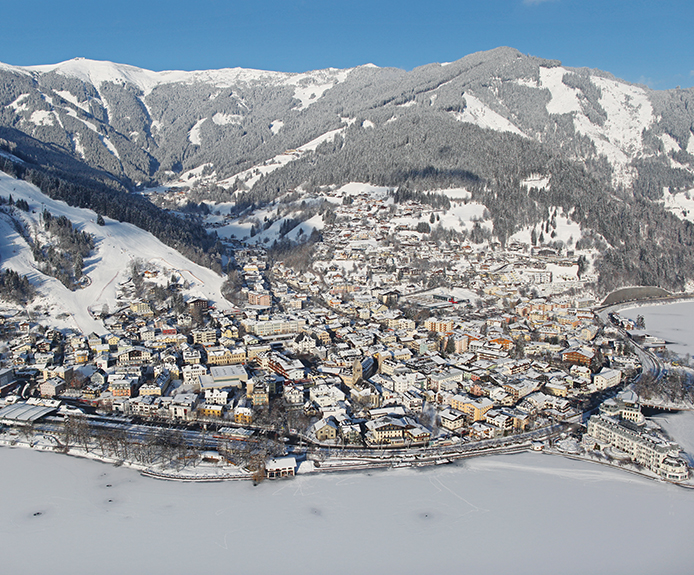 Ruka, Finland
Ruka's a real winter wonderland for families. It's got heaps of character, traditional log cabins to stay in and beautiful scenery wherever you look. And as a bonus, it's only a 25-minute journey from the airport.
As for the skiing, Ruka's got the biggest beginner area in Finland, as well as lots of gentle runs where you can ski as a family. We especially love the Rosa & Rudolf family park, which has magic carpets and fun obstacles. If you want a break, pop into one of the huts dotted around to warm up by an open fire – remember to pack some marshmallows to toast.
You'll want to leave plenty of time for other activities too, like dog sledding, reindeer safaris and snowmobiling. And if you're there around Christmas, a visit to Santa's Secret Cottage is a must.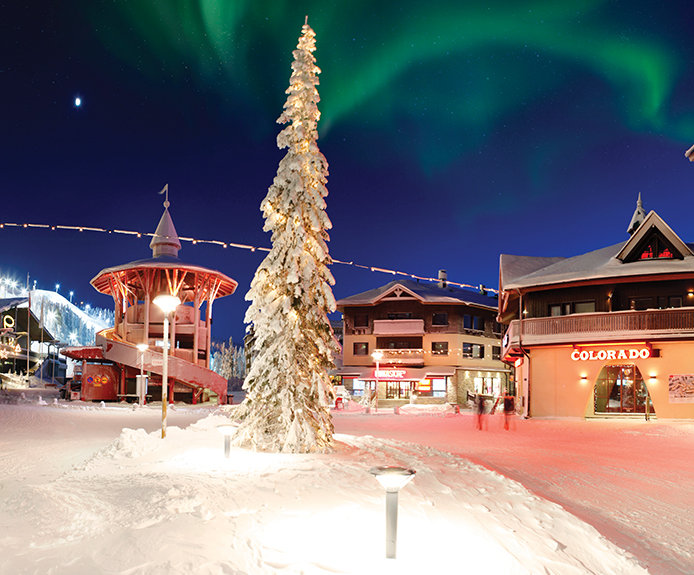 Passo Tonale, Italy
Laid-back families will love Passo Tonale, one of our best ski resorts in Italy. The resort itself has a relaxed atmosphere and just one main road so you'll quickly find your way around the accommodation, restaurants and shops. The slopes are quiet too, which means you'll have plenty of space to practise your turns together. And if you'd like a bit of adults-only ski time, make the most of our Crystal Childcare clubs.
This is also one of the best places for children to learn to ski in Italy. As well as having a great ski school, the 100km area is nice and compact, and the high altitude means good snow is usually a given. Little ones will especially love the gentle runs, inflatable slide and tubing in the Leolandia Fantaski zone. And on Wednesdays, you can meet up with other families for races, face painting and a kids' torchlit descent.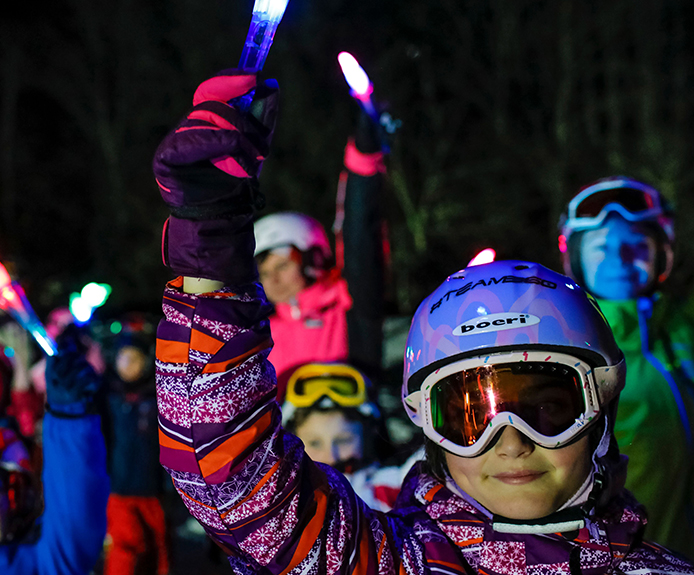 Flaine, France
Flaine's known for its sunny slopes and some of the best snow conditions in Europe. Add that to the excellent beginner skiing and Crystal Childcare, and it's easy to see why it's one of the most popular family ski resorts in France. Off the slopes, you can get stuck into ice skating and ten-pin bowling, or cosy up in a dog sled for a ride through the snowy landscape.
This purpose-built resort has been renovated over the years and is now home to lots of high-quality apartments with their own swimming pools. And all of the accommodation is just a minute or two from the slopes.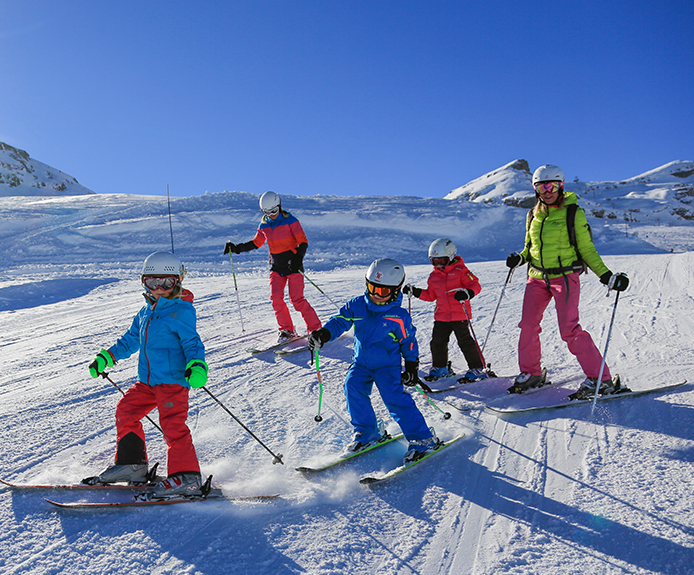 Obergurgl, Austria
If you're looking for an authentic Austrian resort, head to Obergurgl. The village is full of charm, and there are lots of top-notch hotels where you can find friendly service, great food and family facilities like pools and playrooms. And it's the highest village in Austria, so there's usually excellent snow cover all season long.
On the mountain, learners will progress quickly thanks to the fantastic ski school and quiet slopes. Once you've all mastered the basics, you can join up to ski twists and turns on the Audi Quattro fun slope, or even try some tricks on mini jumps in the family park.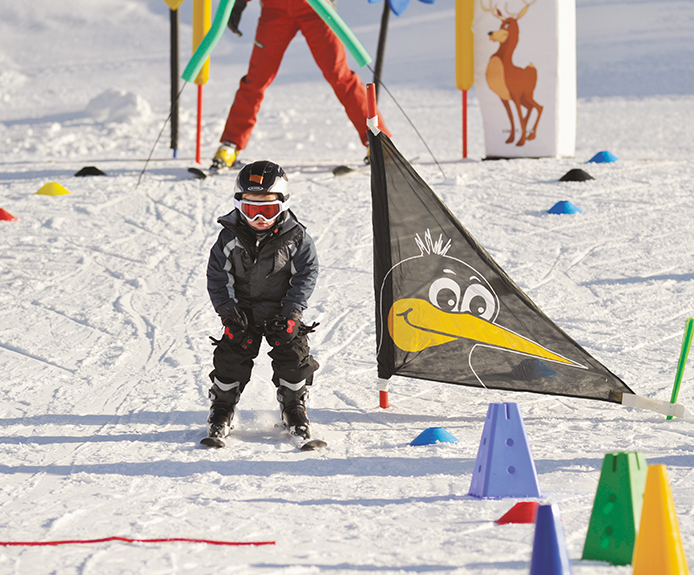 Soldeu, Andorra
Pretty and peaceful, Soldeu's our best ski resort in Andorra for families. It's part of the 210km Grandvalira area, and the gondola here takes you straight up to the ski school and nursery slopes. When you feel ready, you can move on to the local, tree-lined greens and blues, or visit neighbouring El Tarter to dodge colourful obstacles on the Baba Boom Circus route.
Back down in the village, the hotels are very high quality and have swimming pools and kids' clubs. And it's a small place so you'll never have far to walk to the gondola, no matter where you choose to stay.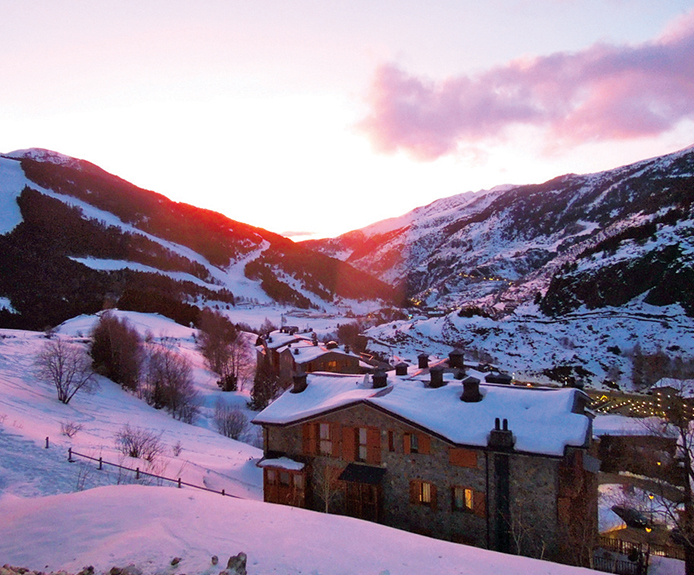 Ready to make winter part of the family? Use the 'best for families' filter when you're searching to narrow down your options. And if you're keen on an apartment, take a look at our latest self-catering deals.