It can be easy to forget how demanding skiing is when you're having fun on the slopes. The average skier burns 300-600 calories per hour , so you'll need to make sure you fuel up properly to keep you going between meals. Check out our tips for eating right in the mountains.

What to eat before skiing
Breakfast sets you up for the day so don't skip it. Fill up on protein with a plate of eggs, or go for a bowl of porridge – the slow-releasing energy will keep you full for hours, and you can add toppings like berries or honey. Muesli, yoghurt and fruit is a classic and healthy combination too.
What to eat for lunch when skiing
A busy morning means your stomach will be rumbling when lunchtime rolls around, but try not to overindulge – you don't want to be too tired after eating. A bowl of hot soup and fresh bread is a good pick to warm you up, or you can grab a sandwich for a quick meal. If you're craving a mountain classic, you can't beat tartiflette. It might not be the healthiest dish, but the mix of potatoes, meat and cheese will fill you up until dinner. As for drinks, leave the alcohol for après time so you don't end up skiing with a fuzzy head. And remember to drink plenty of water throughout the day too.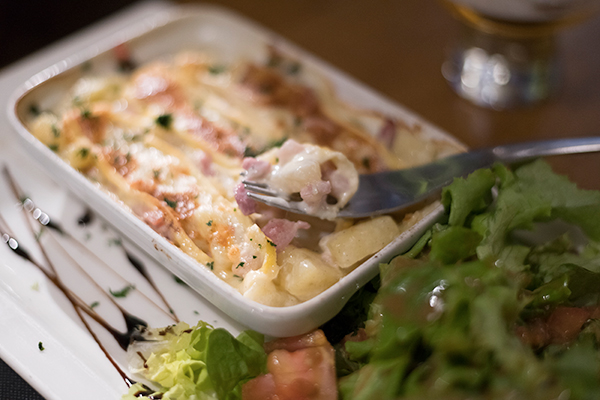 What to eat for dinner when skiing
After a full day on the mountain, you're ready for a reward. Meat and veggies is a satisfying dinner combo, and protein-rich fish is good for your muscles. Pasta always goes down well too, and it's easy enough to whip up yourself if you're staying in a self-catering apartment. Or try the local favourites – because what's a ski holiday without freshly baked pizza or gooey fondue?
Skiing snacks
Stash some snacks in your ski jacket pocket in case you get peckish between meals. Granola bars are always handy, and you can choose nutritional ones with less sugar. Or pack a bag of nuts – small, lightweight and full of goodness.
Tasty treats
Eating well is important, but treats are sometimes hard to resist on holiday. Creamy hot chocolates, flaky pastries, local wines – go on, you've earned it.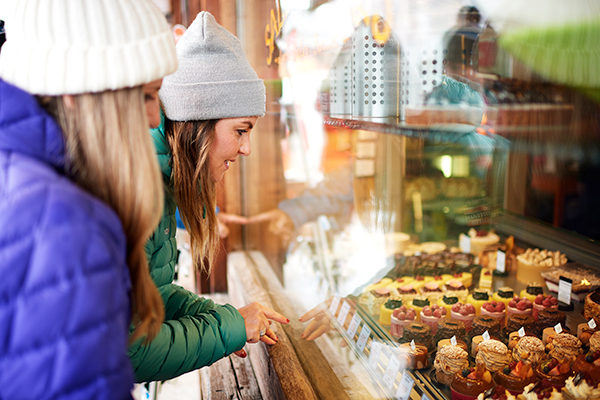 Top tips to take away
• Eat three meals a day – skiing uses up a lot of energy so you'll need to eat regularly.
• Eat balanced meals – fill your plate with a mix of carbs, protein and vegetables to strengthen your muscles.
• Pack snacks – carry a couple of small bites in your pocket to keep you going until dinner.
• Stay hydrated – take a water bottle and drink at least a couple of litres a day.
Fuelled up and raring to go? Feast your eyes on our latest ski deals.