Everyone learns to ski at their own pace, so how long it takes to progress can vary a lot. Stay on track with our guide to the big ski milestones, and speed up your progress with tips on how to improve.

What does it mean to be good at skiing?
Good is a relative term, but the key to being a good skier is often confidence. When you're confident exploring new runs, techniques and equipment, you can focus less on being good and more on having fun.
Skiers are usually split into beginners, intermediates and experts, and your ability generally depends on how long you've been skiing and the types of runs you're comfortable on – but it also comes down to skill.
Beginner level:
Everyone starts with the basics. Before you get to the mountains, read up on our top tips for beginner skiers to help you pick the right resort, pack the right gear and learn the mountain lingo.
First-timers will start out on the nursery slopes in ski school, then venture onto some gentle green and blue runs. You can grow your confidence by repeating the same runs to practise what you've learned. And by the end of the first week, a good beginner should be able to manage their speed, link a couple of turns and make a controlled stop.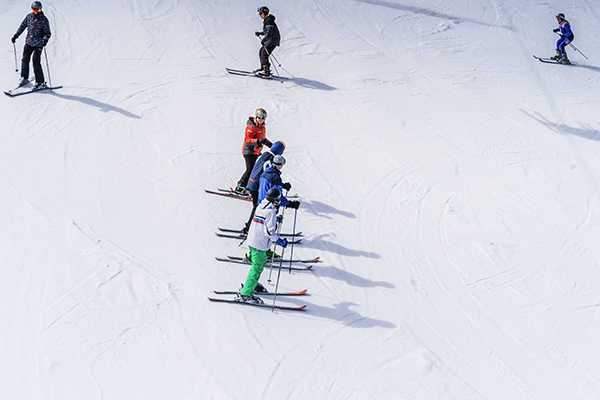 Intermediate level:
Some skiers will pick it up quite quickly and be tackling easier reds by the end of week one, but it can often take a couple of weeks to be a truly confident intermediate. Exploring new, steeper runs is a good way of progressing – and by the end of the holiday, you might even be testing the waters on an easier black piste.
As a good intermediate, you'll also start to notice mistakes in your own skiing and can start thinking about how to fix them.
Expert level:
Skiing a black run is generally the mark of a more advanced skier. But the aim is to ski it well – not just get down it by snowploughing.
So being a good expert skier is all about skiing difficult slopes with good technique, which means controlled speed and well-formed parallel turns. It can take anywhere from 3 to 10 weeks to get to this stage. And once you've mastered this on the groomed runs, try heading out in all kinds of weather and exploring new terrain like off-piste.
How long before I'm an expert skier?
How long it takes really depends on your confidence and how quickly you pick up new skills – not to mention how good your ski instructor is. Just remember to stay in control, manage your speed and be aware of the people around you. Here's a guide to the milestones and roughly how long it might take to get to each one.
Snowplough
Also called the 'pizza', this is the first move you'll learn on day one. Make a V shape with your skis – with the front tips almost touching and the backs wide apart – to learn how to control your speed and direction.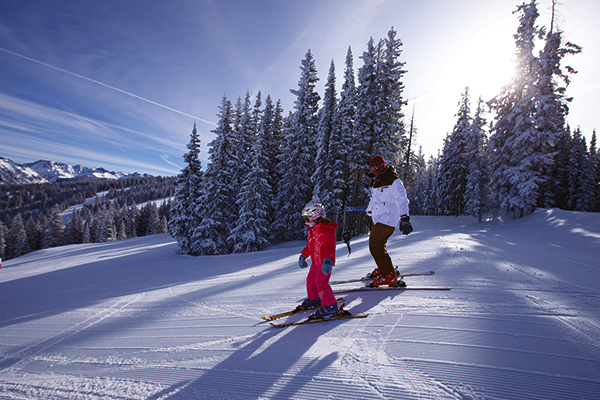 Linking snowplough turns
The next step is to link turns while you're snowploughing, so you ski an S-shaped path down the slope.
First blue run
After a few days, you might be ready to try your first blue. They're a bit steeper than the nursery slopes but still fairly gentle, and most of them are pretty wide too, so there's plenty of space to practise your turns.
Parallel skiing
Later in week one or into week two, you'll be ready to start parallel skiing – with your skis side by side rather than in a V-shaped snowplough.
First red run
By the second or third week, you might be looking to try something a little harder. Reds are steeper and often narrower than blues – and are a good middle ground to explore with intermediate and advanced pals.
First black run
Even steeper than reds, these are the hardest slopes to tackle. Not all blacks are as steep or narrow as others, so when you're ready, choose one you're comfortable with and give it a go.
No fear, go anywhere
Once you've perfected your technique, the mountain is your oyster – you can ski any kind of run, play in off-piste powder or try freestyling in a snow park. Not everyone gets to this stage, but that's okay as long as you're having fun.
Tips for progressing quickly
There are no guarantees for speeding up the learning process – but if you're determined, there are a few things you can try that may help.
Get fit
Having a better level of physical fitness will improve your stamina and balance, and could help you progress quicker. Check out how to get fit for skiing and have a go at Slopercise – a series of workouts you can do at home to prep your body for the piste.
Watch our ski hack videos
Whether you're just starting out or you're a seasoned pro, there are plenty of tricks and tips to take your skiing to the next level. Watch our bite-sized videos for expert advice on things like linking your turns, controlling your speed and going out in flat light.
Go to a snow centre
Try not to leave it a whole year between ski trips. Heading to an indoor snow centre in the UK can help keep up your progression over the summer. And taking a few refresher days before your next holiday will get your ski legs ready for the mountain.
Take ski lessons when you're on holiday
Lessons are essential for first-timers, so choosing a suitable resort with a great ski school is important. We've put together a list of the best places to learn in Europe. And when you're browsing the deals on our website, use the 'best for beginner skiers' filter to help narrow down your search.

Even if you've been skiing for years, spending some time with an instructor in the first few days of your holiday can dramatically improve your skiing. Joining a ski school group will give you expert advice and pick up on any bad habits you may have.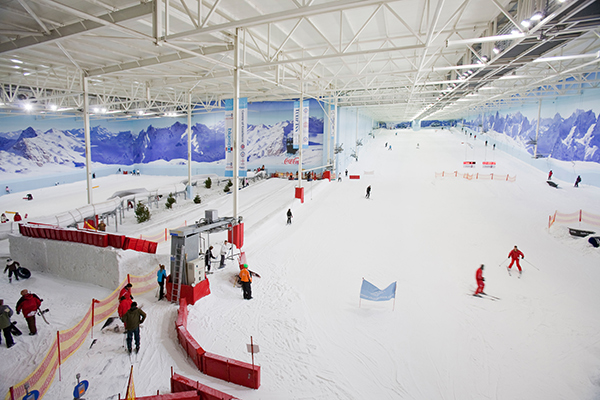 Relax, it'll come
Getting stressed about being a better skier won't help you improve any quicker. So it's best to take it at your own pace and just enjoy it. Take breaks when you want to or even ditch the slopes to head to a spa or try out other snow activities in the resort.
One thing's for sure – the more time you spend on the mountain, the better you'll be.