You might not be able to race your mates down the slopes right now but you can still share your love for the mountain and go head-to-head with the Crystal quiz. Here are 10 questions to add to your next virtual meet-up, or just to test your own ski expertise. How many can you get right?

Questions
1.What's the biggest ski area in the world?
A. Dolomiti Superski, Italy
B. Paradiski, France
C. SkiWelt, Austria
2.In what year was the first ever Winter Olympics?
A. 1954
B. 1924
C. 1934
3.What is a 'jokul'?
A. A heavy snowfall
B. An icy path
C. A mountain covered in snow
4.Which mountain drink is made with brandy, advocaat and whipped cream?
A. Demi peche
B. Bombardino
C. Caesar
5.Where is the famous Hahnenkamm downhill race held?
A. Kitzbühel
B. Kronplatz
C. La Plagne
6.When was skiing invented?
A. Around 500 AD
B. Around 1,500 BC
C. Around 3,000 BC
7.Which French dish is made with potatoes, cheese, cream and bacon?
A. Tiroler gröstl
B. Tartiflette
C. Kaiserschmarrn
8.What's another name for a snowplough?
A. Pizza
B. French fries
C. Burger
9.How long is the world's longest black run, La Sarenne?
A. 11km
B. 19km
C. 16km
10.Which ski resort celebrates Christmas by throwing a tree into the lake and then sending a team of divers to rescue it?
A. Lake Louise, Canada
B. Zell am See, Austria
C. Åre, Sweden
(Scroll down for the answers).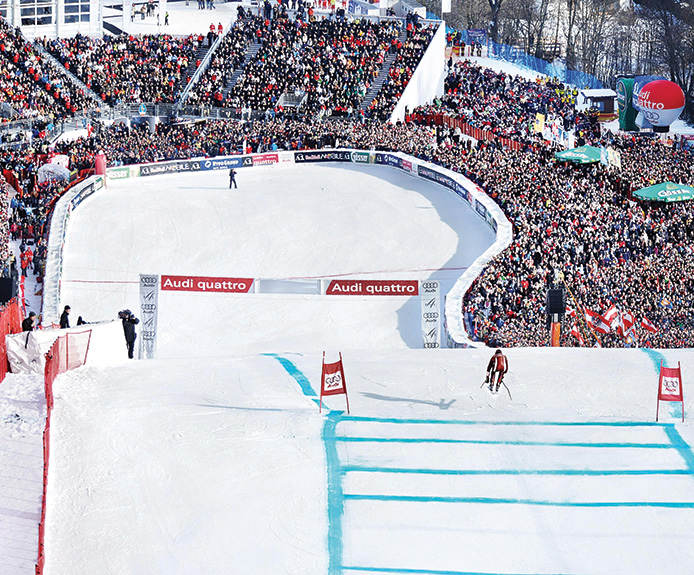 Answers
Dolomiti Superski, Italy
1924 (in Chamonix, France)
A mountain covered in snow (from the Icelandic word jökull)
Bombardino
Kitzbühel
Around 3,000 BC
Tartiflette
Pizza
16km
Zell am See, Austria