You've booked your winter holiday and the countdown is on – now you just need to pack. Whether you're a folder, roller or squeeze-it-all-in-er, check out our ultimate ski trip packing list to make sure you don't forget a thing.

What to wear for skiing
• Ski jacket: Make sure you're never too cold to ski by wearing an insulated, waterproof jacket.

• Ski trousers: Also called salopettes, these waterproof trousers will keep your legs warm and dry.

• Snowsuit: An all-in-one snowsuit is a good pick for kids – it'll be easier to dress them and will keep their whole body snug.

• Base layers: Take a few long-sleeved tops and leggings made of thermal material, to wick away moisture and maintain your body heat.

• Mid-layers: A thin fleece or merino wool jumper will add an extra level of warmth.

• Ski socks: Long, thin, seamless socks will keep your toes toasty – and they won't rub against your skin under your ski boots, so they'll help prevent blisters.

• Ski gloves: Thick, waterproof gloves are the best way to keep your hands warm when skiing. Or mittens can be easier for little ones to put on by themselves.

• Buff/neck warmer: A thin, stretchy tube of insulating material that you can wear around your neck to cover up the gap above your jacket. If the temperature really drops, you can pull it up over your mouth too.

• Goggles: These are essential to protect your eyes on the slopes. Make sure you've also got a microfiber cloth to keep the lenses clean and dry. And you can get different lenses for all conditions, whether you're skiing in bright sunshine, low light or even at night.
If you haven't got your clothing essentials yet, read our guides on buying a ski jacket and salopettes.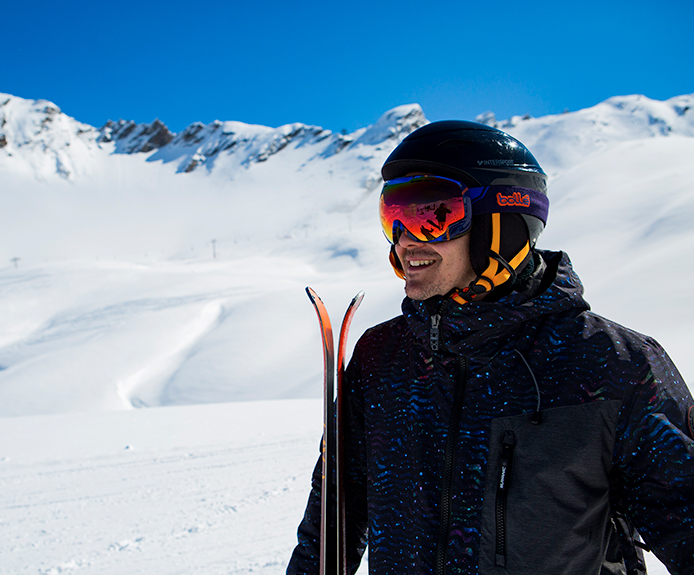 What to wear when you're not skiing
• Casual, comfy clothes: You don't need to dress smartly in most ski resorts – a few pairs of jeans and jumpers will see you through the off-slope hours. And you can wear your ski jacket over the top to keep warm outside.

• Waterproof shoes/boots: Trainers won't cut it in the snow, so take a pair of waterproof shoes with a good grip to wear around the resort.

• Hat, gloves, and scarf: Just like in any cold weather, you'll want to cover up as much as possible when you're out and about. Go for wool or fleece to keep out the chilly wind.

• Swimsuit: Many resorts have a pool or hot tub somewhere – either in your accommodation or in a public spa – so remember your swimsuit if you want to go for a dip.

• Flip-flops: In most public spas and pools, you'll need to wear flip-flops. You can usually buy them there, but it's easier and cheaper to just bring your own.

• Slippers: To keep your feet cosy when you're inside. They're especially handy if you're staying in a chalet, where you'll need to take your shoes off at the door.
Take a look at some more tips about what to wear when you're not skiing.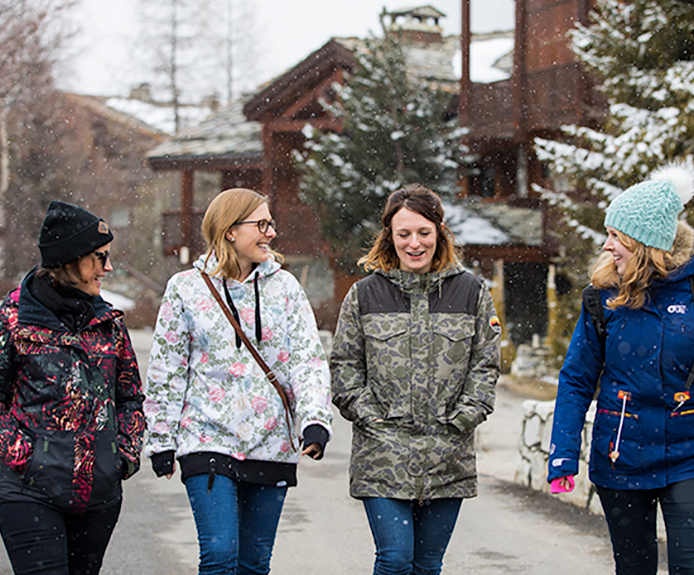 Extras
• Sunglasses: Swap goggles for sunglasses to keep out the sun's glare when you're off the slopes.

• Small rucksack: A lightweight, waterproof bag can be useful for carrying water and snacks on the mountain. And it's a must if you're going off-piste and need to take some safety gear.

• Wrist guards and knee pads: Extra support can be a good idea for beginners and boarders – you'll probably be falling over a lot at first.

• Glove liners: If you get very cold hands, an extra pair of thin gloves under your waterproof ones will trap another layer of warmth.

• Hand warmers: Tuck a couple of reusable hand warmers into your pocket, ready to give off hours of heat at the click of a button.

• Sun cream: Slather on some cream to protect your skin – even when it's cold out, the sun's UV rays can still do damage, especially at high altitude.

• Lip balm: The mountain air can really dry out your lips, so a tube of lip balm is always handy.

• Water bottle: Staying hydrated is key when you're skiing. Choose a reusable bottle to cut down waste – and if you're not taking a bag, get a collapsible one that you can squeeze into your pocket.

• Snacks: Stash a few snacks in your jacket to keep up your energy levels throughout the day – granola bars and nuts are easy, nutritional picks.
Not sorted your ski trip yet? Take a look at our latest deals and book your place on the piste.