Want to give skiing a go but haven't got a clue where to start? We've got your back. Take a look at this ultimate guide – the hub for all of our beginner-friendly blogs – to help with everything from planning your first trip to taking your first slide down the slopes.

Planning your first ski holiday
When to go
First thing's first, you need to decide when you want to go on holiday. In most resorts, the ski season runs from December to April, and choosing when to go will depend on your priorities – some months are better for a family getaway and some are better for deals, après or quiet slopes.
Where to go
As for where to go, we've rated all of our resorts out of five for different ability levels, so you can use the filters to search for ones that are 'Best for beginners'. To get you started, take a look at some of our favourite resorts for beginners and best places to learn to ski in Europe, which have excellent ski schools and lots of gentle slopes to practise on.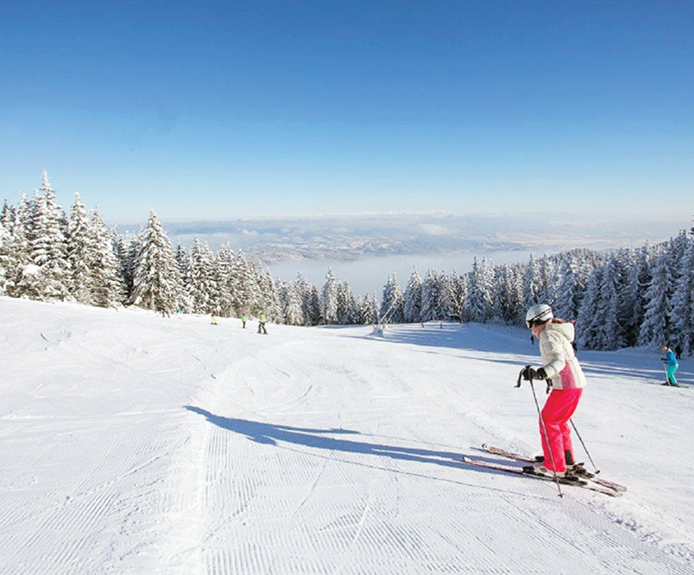 What to pack
Once your trip's booked, it's time to get your gear sorted. T-shirts and jeans won't cut it on a ski holiday, so take a look at our ultimate ski packing list to make sure you've got everything you need, from thermals to sun cream. For your first trip, it might be a good idea to borrow your specialist ski clothing if you can – try before you buy, as the saying goes. But if you'd rather have your own, first read our guides to buying a ski jacket and salopettes, so you know what to look for.
Getting fit
You should also think about getting your body prepped for the piste – skiing isn't like any other kind of exercise and you'll want to make sure your muscles are up to it. Check out our tips to help you get fit for skiing or find out more about Slopercise, a series of workouts we created to help you make the most of your time on the mountain.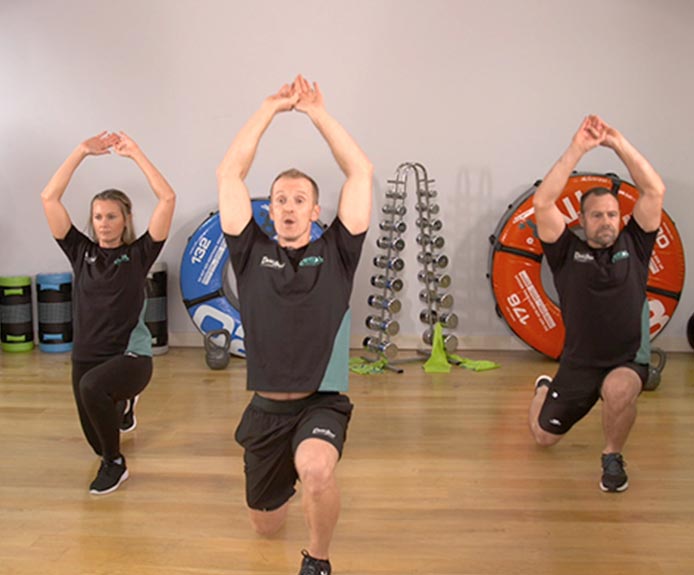 Learning in the lingo
Ski holidays come with a whole new set of vocab you won't hear anywhere else – like 'snowplough', 'mogul' and 'drag lift'. Read our guide to ski jargon to get the basic terms down pat. And you can step it up a notch with our guide to ski slang to learn colloquialisms from 'French fries' to 'gaper gap', and be speaking like a mountain expert in no time.
Learning to ski or snowboard
Skiing or snowboarding?
Okay, so now your holiday's all planned you've got another big decision to make – should you ski or snowboard? The stereotype is that skiing is easier to learn but harder to master, and vice versa for boarding, but which is right for you? Check out our guide on learning to ski vs snowboard to help you pick.
We also put our keenest skiers and boarders head to head, to try and settle once and for all which is better.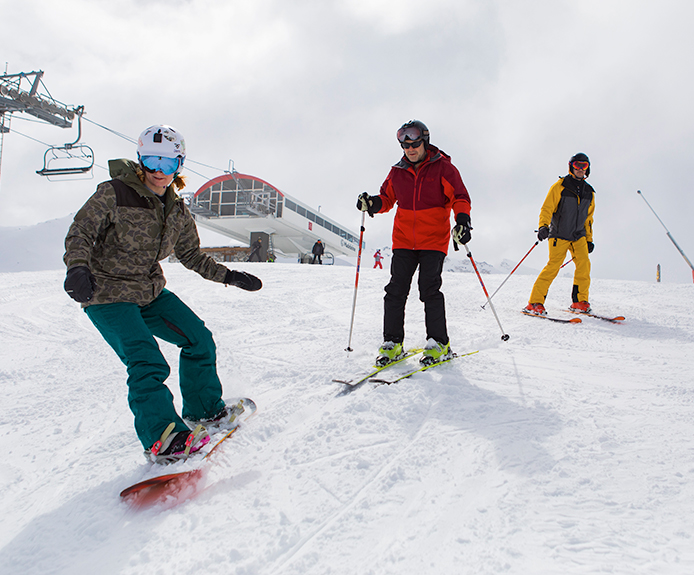 Ski school
If you've never skied before, you should definitely book ski school. Even if a friend or family member offers to teach you, they'll never match the standards of a proper, qualified instructor – and you don't want to risk have an off-putting experience or picking up bad habits.
Everyone learns at their own pace, so there's no set timeline for how long it takes to get good at skiing. But most people pick up the basics in a couple of days and are cruising gentle runs by the end of their first week.
Learning at home
To get a head start, you can take lessons at an indoor snow centre or dry slope before you go – so you'll learn the basics at home and can get straight into skiing as soon you get to the resort.
Ski Hacks
Whether it's your first time skiing or not, there are always new tips and tricks to learn. Watch our Ski Hacks videos to get an idea of what to expect on the mountain – including advice on things like putting on your ski boots and holding your poles.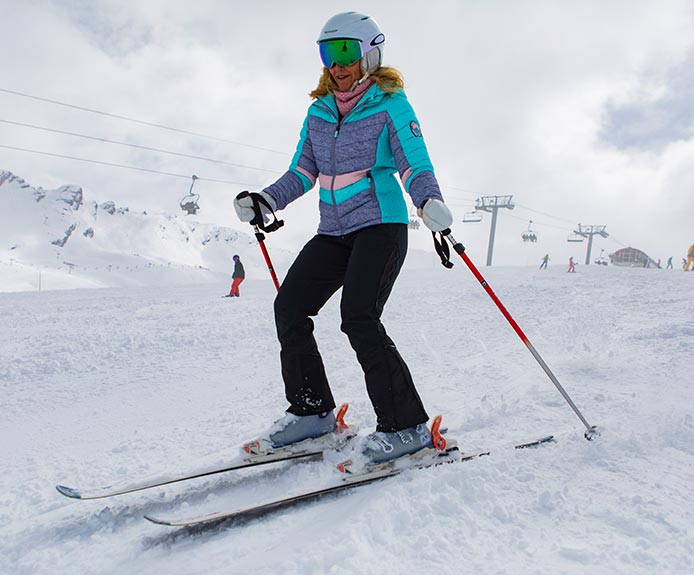 Safety advice & top tips
Slope rules & etiquette
Staying safe on the mountain is key to having a great trip, so the International Ski Federation (or FIS) came up with 10 rules of conduct that everyone should stick to when skiing – from controlling your speed to overtaking safely.
And we've also rounded up some extra tips for staying safe, like making sure you get the right travel insurance and not drinking too much alcohol.
What to eat
Food is a big part of a ski holiday. Not only is eating right essential to keeping your energy levels up for skiing, there's also a load of classic mountain dishes that are a must-try on every trip – think gooey fondue, creamy tartiflette and crisp pizza. Take a look at our guide on what to eat when you're skiing to make sure you don't miss a thing.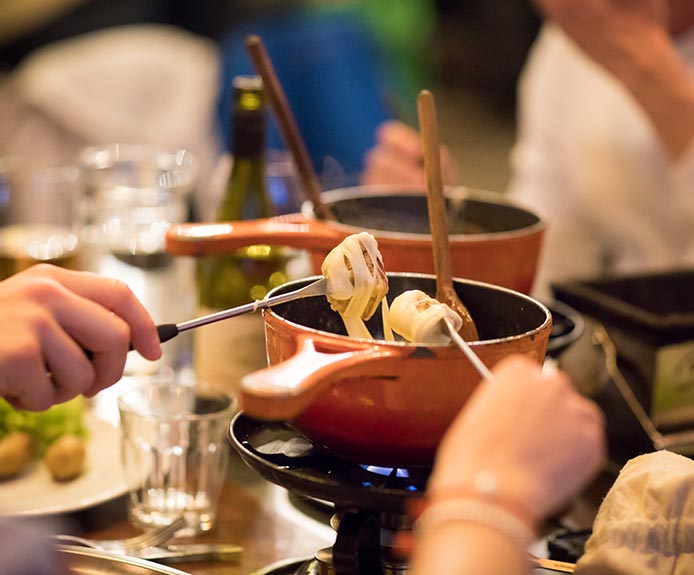 What to wear off the slopes
There's a lot of info out there about what to wear when you're skiing, but what about off the slopes? Do ski resorts even have a dress code? Get some tips on what to wear when you're not skiing, whether you're wandering around town, enjoying some après or dressing for dinner.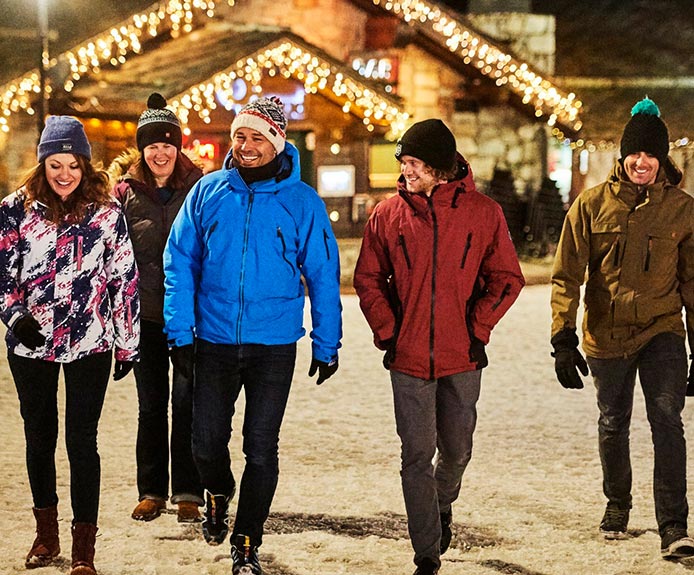 Avoiding injuries
There's nothing like the thrill of flying down a mountain on skis – but just like with any sport, there's always a chance of getting hurt. Ski injuries are pretty rare, but we've put together some top tips on how to prevent them, like getting the right equipment and not pushing yourself too hard.
Après & activities
Après
For a lot of people, après is the only way to end their ski day. Also called après-ski and after-ski, this is the time in the afternoon and early evening when the skiing starts to wind down and most people head to a slopeside bar for drinks, dancing and live music. Sound good? Check out our pick of the best resorts for après in France and Austria.
And we've also got an A-Z guide to mountain drinks, so you can try a local tipple or two.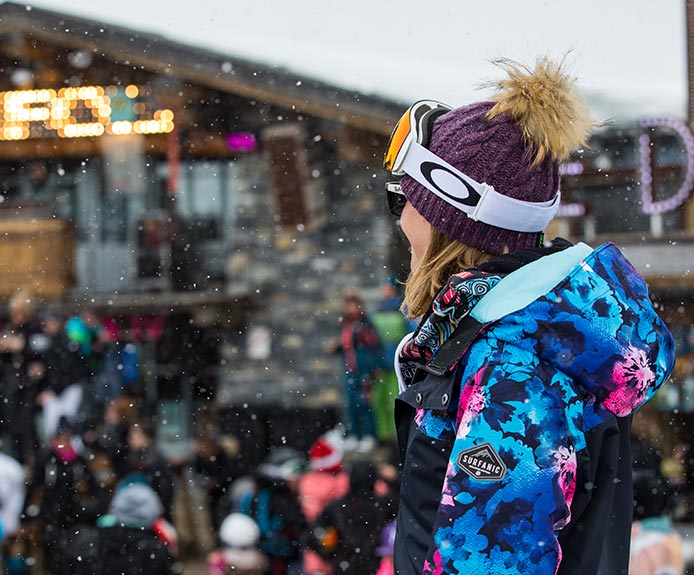 Spa time
If partying isn't your thing, you could spend your off-slope time in a spa instead. Wellness is a massive part of mountain culture, so most ski resorts have at least one spa – and a lot of hotels have their own – with pools, saunas and treatments galore. Here are some of the best ski resort spas.
Activities
Or take a break from skiing to try some other activities instead. The wish list of must-do winter activities is endless, from zooming around on a snowmobile to heading off on a dog-sledding adventure.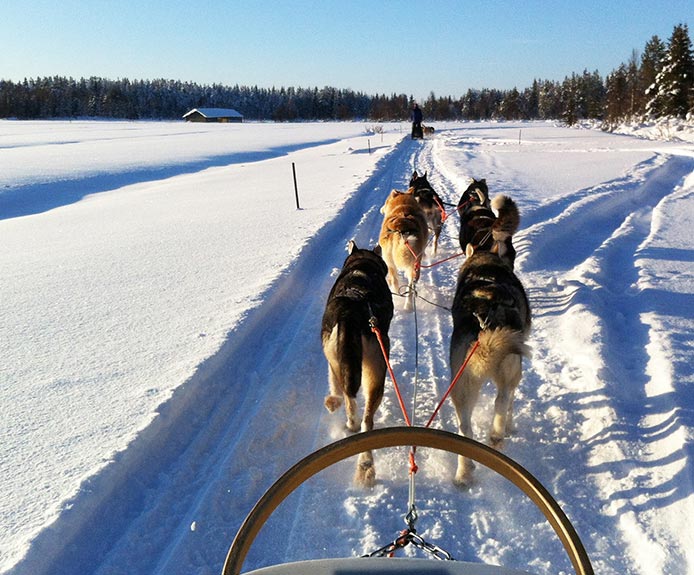 Go on, give it a go this winter. Check out our latest deals and we'll see you on the slopes.