Ski holidays are about so much more than just skiing – and one of the best parts actually starts once you're done for the day. Find out all there is to know about après-ski, from what to do, to what to wear and where to do it.

So what is après-ski?
Après-ski (pronounced 'ap-ray skee') is the time spent socialising and doing other activities after a day on the slopes. It literally translates from French as 'after ski', and it's as much a part of mountain culture as the actual skiing.
The term was coined in the Alps in the 1950s and these days it's usually used to describe drinking and partying in slopeside bars. But there's no one way to après, so you could always spend the time unwinding in a cosy lounge, relaxing in a spa, or trying a whole load of other activities, like snowmobiling or ice skating.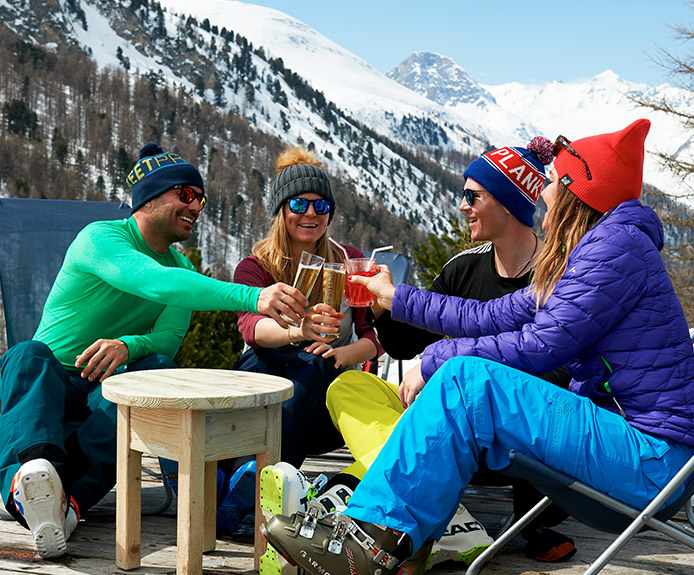 What time does it start?
There's no official time frame, but in most resorts après kicks off in mid-afternoon and lasts until dinner, so from roughly 3-7pm. That gives you enough time to chill out and catch up before tucking into a good meal, and then get a good night's sleep, ready for another day on the slopes.
Of course, you can always start earlier or later – and some people ditch the skis completely and dedicate a whole day to après. Any partying done after dinner generally slips into 'nightlife' territory.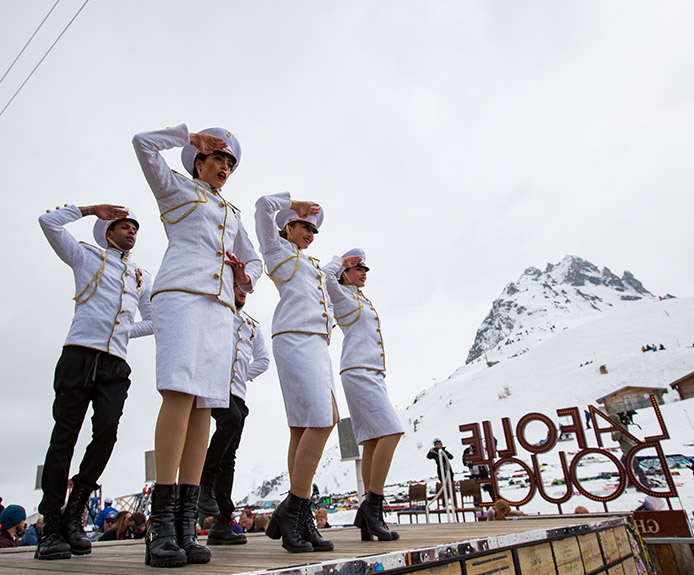 What is there to do?
Classic après is all about bars – once you're done skiing for the day, slide straight to a slopeside watering hole, order some must-try mountain drinks and toast another great day. Loads of places put on live music, DJs and entertainment acts to get the crowd going, and the atmosphere is all about celebration. One of the most famous is La Folie Douce, which has venues in several French resorts and is known for its over-the-top piste-side parties.
Then you get places that are a bit more understated – like terraces where you can soak up some sun from a deck chair, and hotel lounges where you can sit back with a drink and chat about your day without shouting over thumping music.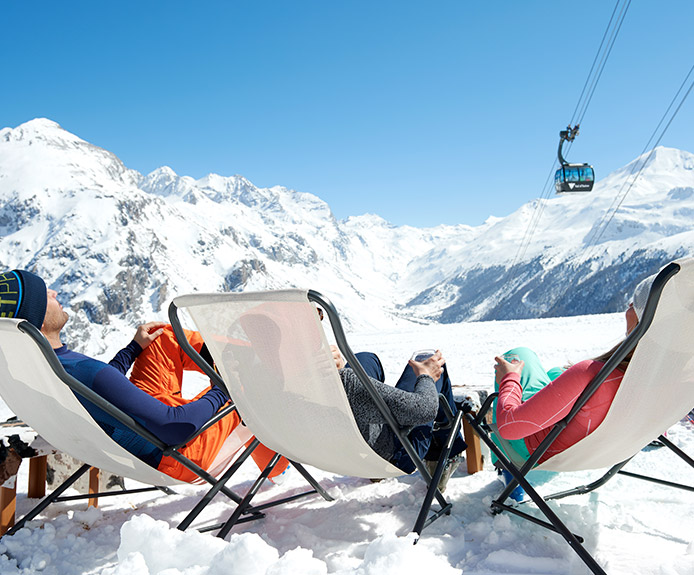 But if bars aren't your thing, there are plenty of other ways to spend your après time. Spas are another massive part of mountain culture so many resorts have them – and lots of accommodations even have their own. Spend some time pampering yourself in a sauna, swimming pool or hot tub. And you could even treat yourself to a massage or beauty treatment too.
If you'd rather make the most of being in the mountains, you can try a whole host of winter activities. Strap on some snowshoes and head off for a walk, meet some new furry friends on a dog-sledding adventure, zoom around on a snowmobile or skate across a frozen lake. You could try a different kind of après every day if you like.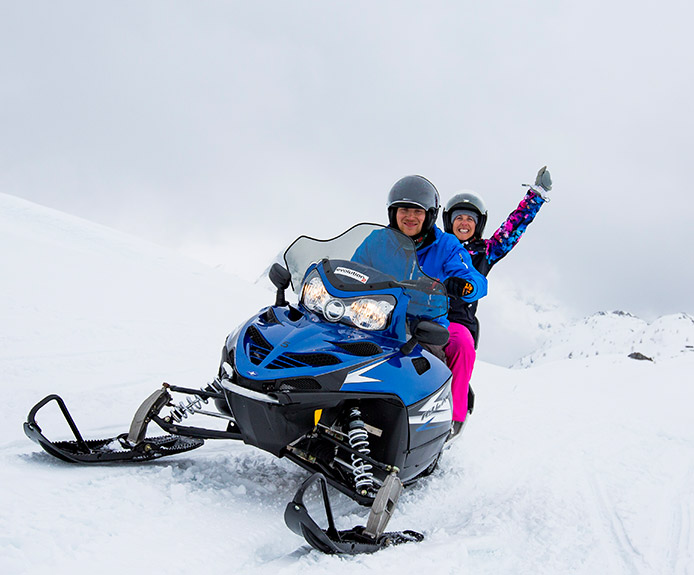 What to wear
There's no dress code about what to wear when you're not skiing. Most people go straight to après from the slopes, and partying in your full ski gear is all part of the fun. Of course, you can always nip back to your accommodation to change first if you like – even if that just means swapping your ski boots for something comfier.
If you're heading to a more laid-back bar or lounge, or just hanging out in your hotel, you can't go wrong with jeans and a t-shirt. Pack something fancier if you want to try an upscale bar, but remember to be practical too – dresses and heels aren't the best pick for wandering around a snowy mountain resort. And don't forget your swimsuit either, for those post-ski spa sessions.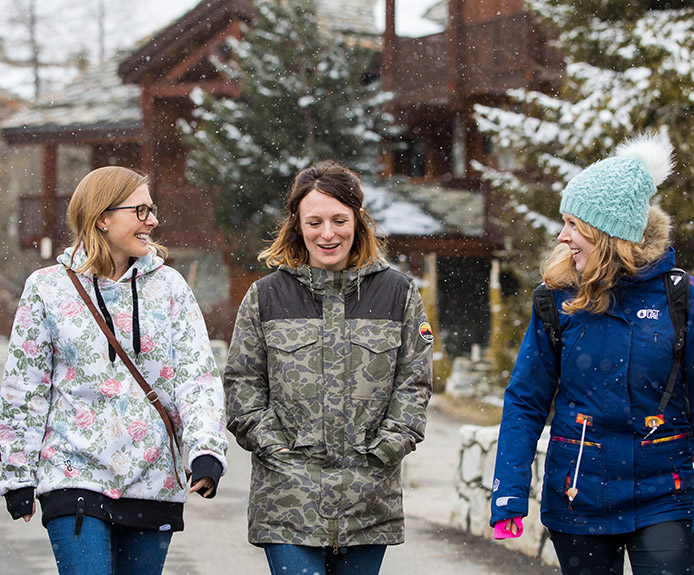 Dos & don'ts of après-ski
Take a look at our tips and tricks to help you have a great time and stay safe too…
Do ask a local or your ski instructor for ideas on where to go – they know all the best après spots.
Do stash your ski gear properly. Most bars have racks for your skis and you can bring a lock to make sure yours are secure.
Do try a local drink, not just your usual – whether that's a regional beer or wine, or the bar's speciality cocktail.
Don't drink too much.
Do bring your sunglasses. Snow reflects sunlight so you'll want to protect your eyes if you're sitting outside.
Do know how to get back to your accommodation.
Don't skip dinner. You'll need a good meal to fuel you up and help you get a proper night's sleep.
Don't stay up too late if you want to be fresh for first lifts the next day.
Do dance on the table – not only is it allowed in most places, it's encouraged.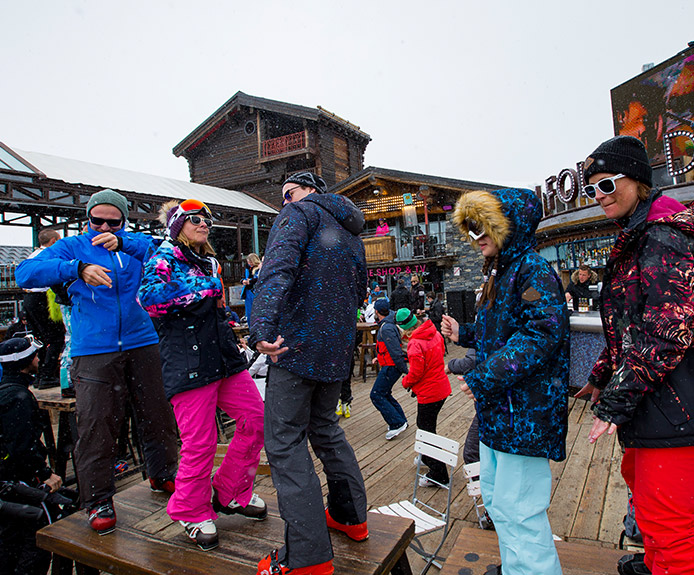 Best resorts for après-ski
St Anton, Austria: A traditional town in Austria's biggest linked ski area, the Arlberg, St Anton's renowned for world-class après and some of the best bars in Europe. Don't miss the Mooserwirt and Krazy Kangaruh.
Tignes & Val d'Isère, France: These two share a ski area and Tignes is a favourite for groups and families, while Val d'Isère is more upscale. But both have a huge range of bars – including La Folie Douce – and activities from paragliding to ice diving.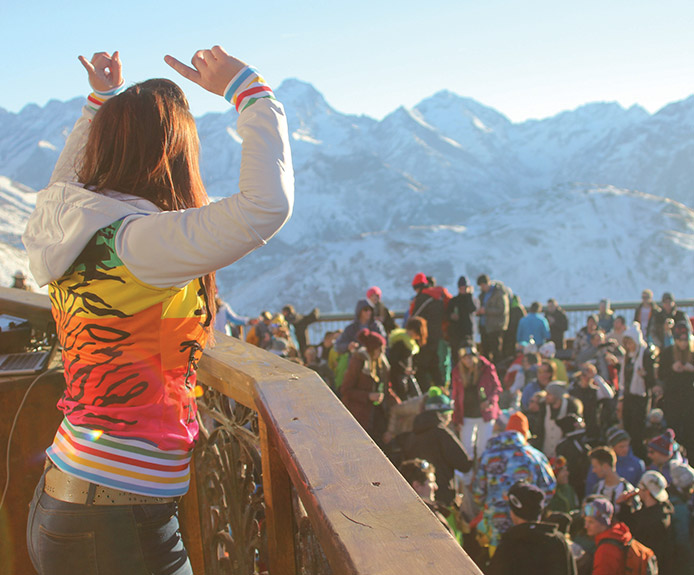 Sauze d'Oulx, Italy: The liveliest resort in the Milky Way, this pedestrianised village is popular with Brits who want to celebrate into the small hours. For some more laid-back fun, head to one of the modern wine bars or sports cafés.
Ischgl, Austria: Once a farming village and now a buzzing town, Ischgl's loud and lively après is hard to beat. And it's got loads of other activities too, from spas to winter walking.
Zermatt, Switzerland: A car-free town with the iconic Matterhorn in the background, Zermatt has plenty of premium bars to try. Or mix things up and have a go at tobogganing or ice skating instead.
Val Thorens, France: Europe's highest ski resort is also home to the highest pub and the highest zipline – not to mention the rest of the bars and activities on offer, which make this place so popular with groups and families.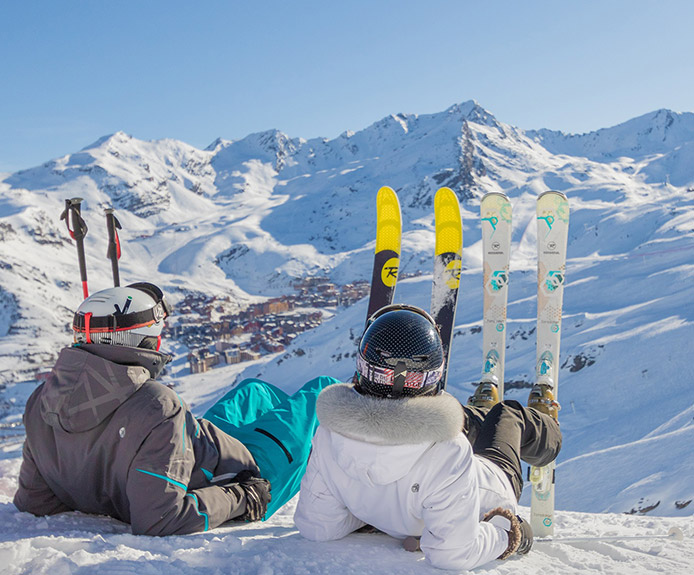 Pas de la Casa, Andorra: A small resort with a big reputation for après, Pas is nicknamed 'Ibiza on snow'. Every afternoon, the town comes alive with music and dancing – and the drinks are great value too.
Mayrhofen, Austria: A diverse village with an equally diverse après scene – whether you want to party till dawn or cuddle up for a horse-drawn sleigh ride. Head to the pedestrianised main street for your pick of bars and clubs.
Les Deux Alpes, France: The 2km main street here is lined with pubs, sports bars and clubs. Or families can spend their off-slope time splashing in the public outdoor pool or gliding around the ice rink.
Whistler, Canada: Canada's biggest – and arguably best – ski resort also has a legendary après set-up. Explore the huge range of bars and activities, including special après events for families.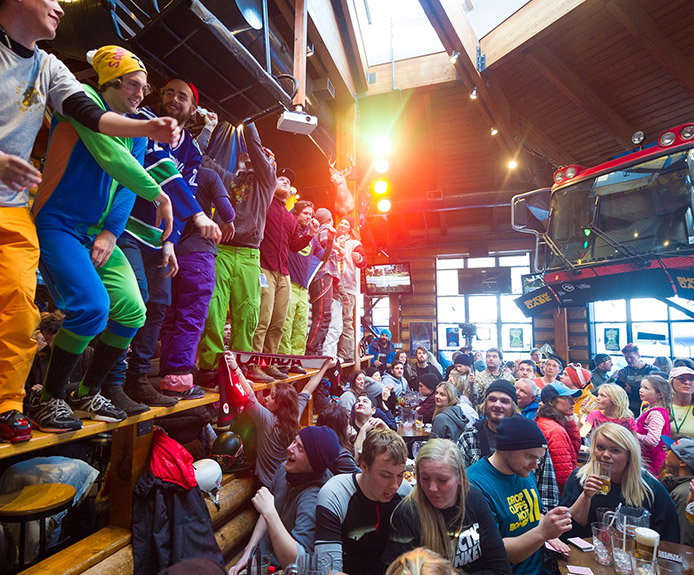 Ready for some après adventures? Find out more about our best resorts for après in France and Austria, and start planning your party on the piste.