France's purpose-built, ski-in resorts make it oh-so-easy to après. Spend the day on the slopes, stop for a mountain tipple and then schuss straight to your favourite bar when you're ready to party.

Which leads us to our favourite thing about French après. Put simply, it never ends. None of these curfews and early evening closing times – you can keep the fun going into the early hours in most resorts.
Yes, France can be pricier than some of its neighbours, but wine's always relatively cheap and there are plenty of happy hours when you know where to look. And like most things French, their après is effortlessly cool, starting with the soundtrack. Whether its dance music from in-house DJs or great live bands, it's usually at sonic-boom volumes, with barely a Europop dance routine in sight. There's also hint of Scandi chic to the bars and clubs. Lots of French resorts buzz with Scandi skiers and they've brought their super-cool style with them.
So where's the best place to try French après for yourself?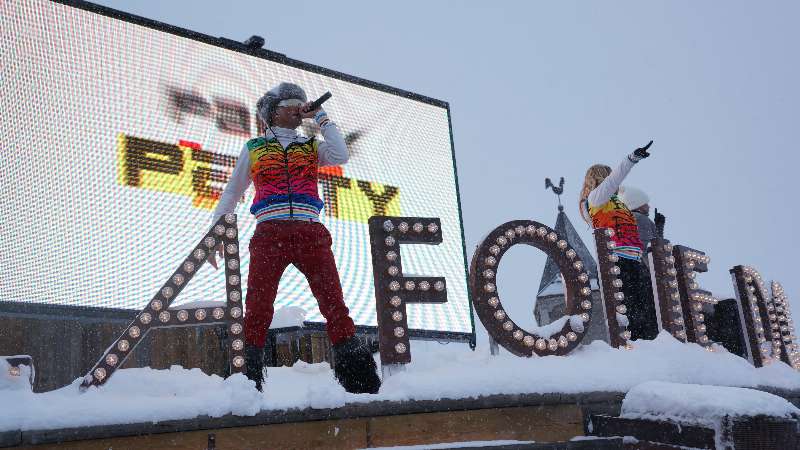 The best après bar in France
The Folie Douce
The Folie Douce is an institution of French après. These open-air, slopeside funspots pride themselves on their great food and raucous parties. Think live sax playing cat-and-mouse with dance beats, barely clad dancers and sun terraces with outrageous views. If you're after the ultimate in French après, they're a must. Check them out in Alpe d'Huez, Val Thorens, Méribel and Courchevel, and Tignes and Val d'Isère.
The top 4 places to après in France
Three Valleys
The eight villages of the Three Valleys area are packed with après options. Start at the Rond Point, known as the Ronnie, up on the main piste in Méribel. Great live music, a sunny terrace and a decent menu all day keep it popular all winter. Don't miss Ronnie Loves Music, their music festival with well-known DJs, live bands and a big-air competition out on the piste. If you don't want the night to end, ski down into town and seek out Jacks Bar, a local favourite with free pool and live music to keep your feet moving into the early hours.
Méribel's higher-altitude and slightly cheaper cousin, Val Thorens, packs its own après punch. Head to 360 Bar for smoke machines, lasers and dancing on tables. Keep your wits about you for the ski back into town, where there are loads of places to pit stop for a quick meal before carrying on. Don't miss The Frog and Roast Beef, which styles itself as a typical English pub and claims to be the highest pub in Europe.
Espace Killy
Like the Three Valleys, the Espace Killy area suits all budgets and you can après hard in both high-end Val d'Isère and the more wallet-friendly Tignes. Cocorico in Val d'Isère is piste-side, has an amazing atmosphere and sits above a nightclub with a mind-twisting circus theme. Prefer your rounds to be led by bonkers Scandi bar staff? Try Le Petit Danois, a Danish-run favourite that's as mad as a box of frogs, with brilliant live bands and a daily happy hour. Each of Tignes' villages has a unique and friendly buzz and they've all got some decent après spots. The Loop Bar at the bottom of Trolles is ski-in, ski-out and hosts some massive party nights, with live music and top DJs. Or head to Saloon Bar to shoot some pool, catch a football match or dance along to the resident DJ.
Les Deux Alpes
Les Deux Alpes is known for its party resort credentials, with over 40 bars along the towns main strip. Kick off your merriment at Pano Bar, opposite the Jandri Express mid-station. Its got a sunny terrace with panoramic views and great music, with a live DJ from 3pm and 5pm. And when you're back down the mountain, Smokey Joe's leads the charge, with Tex-Mex food, big screens, live music and a daily happy hour.
Alpe d'Huez
The recent arrival of a Folie Douce only further confirmed Alpe d'Huez as one of France's best for après and its pisteside branch has quickly become the place to go. But the resort itself still represents, with lots of busy bars across its four areas. Sphere Bar at the top of the main street has a relaxed vibe, live bands, cocktail hours and drinks deals through the night. And if you're having a late one, head over to Smithy's Tavern, a spacious, chalet-style bar with live music that's open until 2am.
Words by Clarice Hine.