Whether you're warming up, cooling down or celebrating the end of a great day, mountain drinks are a big part of any ski trip. We've pulled together a list of the most popular, delicious and bizarre favourites from resorts around the world. What will you be ordering?

AKVAVIT – NORWAY
With a name that means 'water of life' in Latin, it's no wonder this is one of the most popular spirits in Scandinavia. It can be flavoured with lots of herbs and spices – like caraway, cumin, cardamom, aniseed and fennel – and is meant to be sipped slowly. People in Norway usually drink it at Christmas and other celebrations.
APEROL SPRITZ – ITALY
A favourite in summer, this cocktail goes down just as well in winter, when you're sitting on a sun terrace outside a mountain bar. The tart, bright orange blend of Aperol, prosecco and soda is a refreshing pick-me-up at the end of the day.
BEER – EVERYWHERE
Beer's a universal pick on bar menus, but there are a few places where it's an absolute must-try. One of the most famous beer-making countries is Austria, so look out for local brews and sit back with a chilled stein. Micro-breweries are popping up all over the USA too, so you can try some local craft beers in North American ski resorts.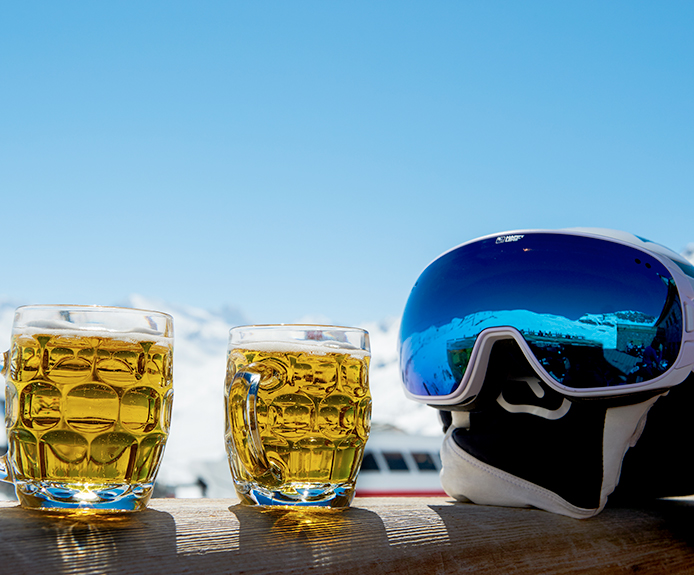 BOMBARDINO – ITALY
For something a little more indulgent, you can't go wrong with a bombardino – a creamy drink made with advocaat or eggnog and brandy. It's served hot and topped with a cloud of whipped cream, and is a staple on most Italian ski resort menus.
CAESAR – CANADA
Canada's take on the Bloody Mary is said to cure any morning hang-ups and get you set for the slopes. It blends together vodka, Tabasco, Worcestershire sauce and Clamato juice (that's tomato juice and clam broth). Trust us, it tastes better than it sounds.
CAFFÉ CORRETTO – ITALY
Think 'Italy', and coffee is probably one of the first drinks that comes to mind. You can get your caffeine fix with a typical espresso or cappuccino – or you can go an extra step and order up a caffé corretto. It translates to 'correct coffee' and comes with a splash of grappa, sambuca or brandy.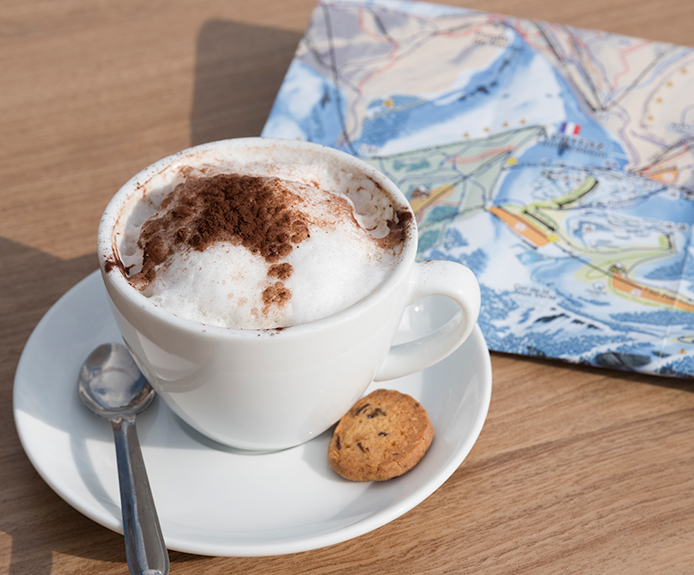 DEMI PECHE – FRANCE
A stronger version of a shandy, this one starts with wheat beer or lager but swaps the lemonade for a dash of peach syrup. It's a favourite with skiers who've got a sweet tooth, so look out for it if you need a sugar boost on your next trip.
FISU – FINLAND
Finn's have taken cough and cold remedies to a whole new level, creating a shot that's flavoured with Fisherman's Friend lozenges. They're crushed and added to a glass of Koskenkorva Viina, which is similar to vodka, to make fisu – handy if you find yourself with a tickly throat on the mountain.
GÉNÉPI – FRANCE
This alpine liqueur isn't for everyone – it's drunk neat and has a strong herbal flavour. But it makes a very good palate cleanser after a heavy meal, especially cheesy dishes like fondue and raclette that are so popular in French ski resorts.
HOT CHOCOLATE – EVERYWHERE
A classic choice that'll put a smile on anyone's face, and can be topped with whipped cream or marshmallows for an extra treat. In lots of ski bars, you can kick it up another notch by adding a shot of whiskey, brandy, schnapps or Baileys.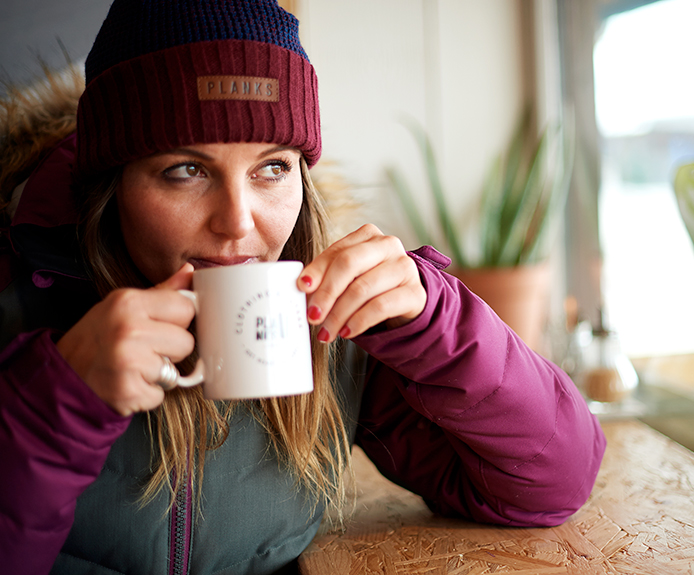 JÄGERMEISTER – AUSTRIA
Love it or hate it, Jäger is an Austrian après staple. The liquorice liqueur contains 56 herbs and spices, and is a good digestif after dinner. Or you can pair it with Red Bull to make the popular Jägerbomb.
MULLED WINE – EVERYWHERE
This one's got lots of names – glühwein in Austria, vin chaud in France, vin brulé in Italy and glögg in Scandinavia – but they all pretty much mean the same thing. And there's no better way to warm up than by wrapping your hands around a steaming mug of this hot red wine, flavoured with spices, sugar and fruit.
OBLAK – BULGARIA
One that's bound to divide opinions, this bright green cocktail is made with mastika (an aniseed-flavoured liqueur) and menta (a sweet, mint-flavoured liqueur). Try it and decide for yourself if it gets a spot on your list of favourites.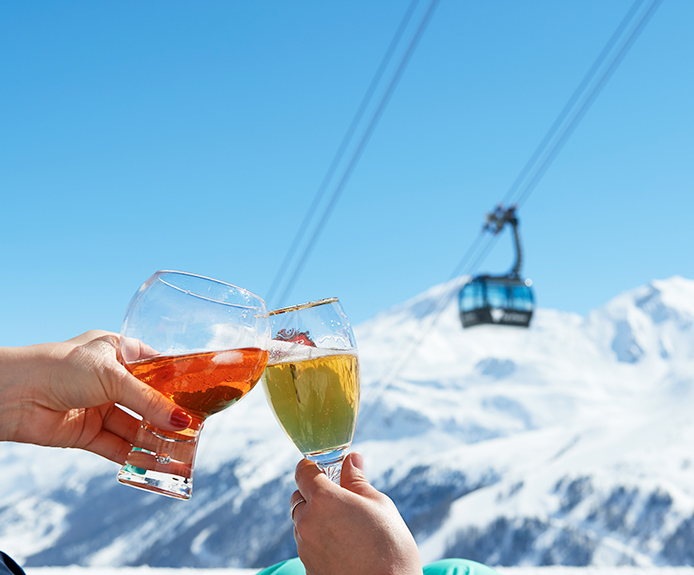 OLD FASHIONED – USA
For something more traditional, sit back with an Old Fashioned. It was invented in the 1800s and the name comes from the fact that it contains all of the original cocktail ingredients – spirits, bitters and sugar syrup. This tipple usually uses whiskey and is topped with lemon peel.
RAKIA – BULGARIA
Feel right at home in Bulgaria with a sip of this fruit brandy, the country's national drink. It's usually drunk before dinner or alongside your starter, and can also be served hot, with a touch of honey and black pepper.
SCHNAPPS – AUSTRIA
Toast the end of a good meal with a shot of schnapps. Austrians have been making this strong spirit for centuries, so they've got it down to a fine art. And it comes in endless flavours, though fruity ones are the most common – think apple, pear, plum, cherry and apricot.
SPEZI – AUSTRIA
If you're looking for a local soft drink, try a glass of Spezi. This refreshing mix of cola and orange soda is a proper sugar rush – chug it at lunchtime for a midday energy boost and you'll be raring to get back on the slopes.
TUACA – USA
Invented in Italy in the 16th century, this brandy liqueur is now owned by an American company – and has found its way to the country's ski resorts. The mild vanilla flavour makes it a tasty addition to hot drinks like coffee, tea and cider.
Take a look at our best resorts for après-ski in France and Austria, and raise a glass to the mountain on your next ski trip. Cheers!