Disability Snowsport UK (DSUK) is a charity that helps disabled people ski and snowboard – from doing lessons at indoor centres in the UK and Aviemore resort in Scotland, to hosting group holidays across Europe and North America. Their aim is to make sure that everyone can take part in winter sports and fall in love with the mountains, regardless of disability, injury or experience.

Read on to find out more about DSUK and how it's changing lives, through stories from some of its members.
Peta
'I first went skiing when I was 27. I always preferred a sunny holiday but I had the best week of my life. It was exciting, exhilarating, challenging and just great fun!
In May 2016, I fell out of my loft at home and rendered myself paralysed from the waist. I had to come to terms with the fact that I would never walk again or do the things I loved, including skiing.
I heard of DSUK and attended my first lesson at Hemel Hempstead. They decided I should try a mono ski and I really enjoyed it!
I went on my first DSUK trip in 2019 to Andorra and once again had the best time ever. It was fantastic to be skiing on real snow and by the end of the week I managed to get from the top of the run to the bottom without assistance and without falling over! The whole trip was amazing, the lessons were well organised and the après ski was a laugh too.'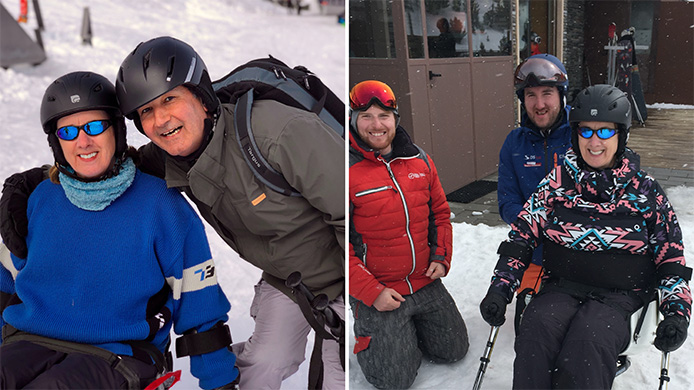 Amy
'I've been skiing with DSUK for two years. I ski at Manchester, at the Chill Factore.
I have cerebral palsy and I'm deaf. DSUK has given me so much confidence and they have helped me work on my goals and they are helping me to reach my ambitions to get to the Paralympics.
DSUK have given me so many fun trips. Last year I went to Austria where I learned to ski on the red slopes in the mountains, and then I went to Italy, where I skied on the mountains on the red runs and it was epic. When I ski, I feel I have a sense of freedom where there are no barriers stopping me. All thanks to this amazing charity.'
Ruairidh & Cameron
'Our journey with DSUK started back in 2012. Ruairidh and Cameron were aged 10 and 8 then, and both are autistic. During a sledging session at Braehead, I saw some information about DSUK. Our weekly visit to Braehead is very much part of our routine now – the staff know the boys well and it's a safe, inclusive and fun environment for them.
They both started with ski lessons and we had a couple of trips to Aviemore – they loved the freedom of being out on the mountain.
In 2020 was Ruairidh's 18th and we decided to take on the challenge – Ruairidh and Mum's big adventure to Andorra. Wow, what a week. Ruairidh handled each and every new experience so well, and is already talking about his next trip. It was a really proud moment for me to see him being just like any other young man – except I know just what went into making it possible and so much of that is down to everyone from DSUK who has supported us over the years.'
Georgie
'My first experience of skiing was at Glenshee. I was 18 and had always wanted to try doing something challenging but with as much independence as possible. It was so much fun and from that day I have been trying to get out on the slopes as much as possible.
In 2016, 2017 and 2018, I went to Andorra and, with the help of DSUK staff, I had some incredible times skiing there. Keeping my own balance while in the sit ski is somewhat of a challenge, but it is something I enjoy working towards.
Now that I have finished college, I have managed to continue skiing with lessons at Braehead. I'm very much looking forward to getting back out on the slopes again and would very much like to get back to Andorra to make some more amazing memories.'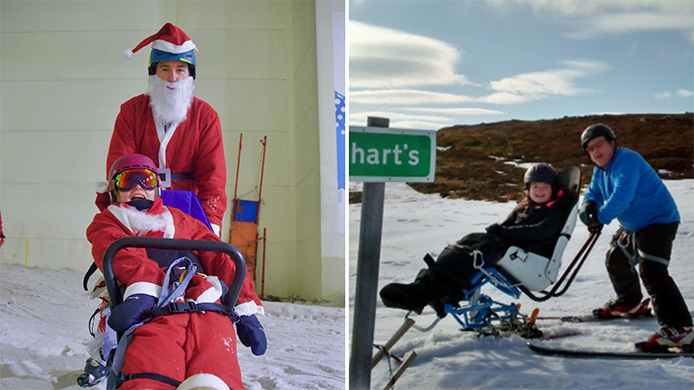 Amanda
'I'm a bit of an adrenaline junkie, so skiing is perfect for me. I love the speed, the constant learning of new skills and the fact that I can do it alongside my non-disabled friends.
I use a bi-unique sit ski, so that's a sit ski with two skis underneath instead of one. I also have riggers which are attached to my arms and I have an instructor attached to me by tethers.
I have two lessons a month with DSUK at Snow Factor in Glasgow and go on holiday every winter. I'd love to confidently ski down a red trail and maybe eventually do a green or blue without tethers.
I go on DSUK holidays for the banter, the laughter and of course the skiing.'
Read the full stories and more at disabilitysnowsport.org.uk, and find out about our partnership with DSUK.