When it comes to magical wintery getaways, Finnish Lapland is hard to beat. It's famous for being the home of Santa, though it's not all about the man in red – from ice fishing to sleigh rides, there are heaps of snowy activities to enjoy here too. So whether you're spending some quality time as a couple or are planning the ultimate Christmas holiday, here's why a ski trip to Lapland should be on your wish list.

Enjoy the snow-covered scenery
If you're dreaming of a white Christmas, Lapland will certainly fit the bill. It's a peaceful wilderness north of the Arctic Circle – picture rolling hills and frozen tundra dotted with log cabins. Step outside to enjoy your silent surroundings and get a closer look at the other-worldly shapes of the snow-laden 'ghost trees'. You could even strap on some snowshoes to help you walk through the deep powder.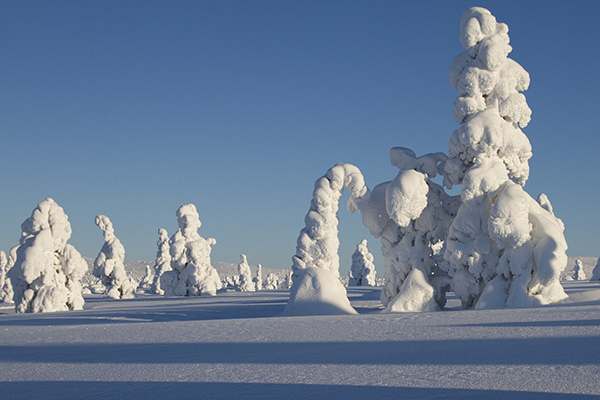 See the Northern Lights
Wrap up warm and head out to try and catch one of nature's most impressive night-time shows, the Aurora Borealis. Also known as the Northern Lights, the phenomenon is active from December onwards, and Lapland's dark skies and northerly location make it one of the best places on Earth to see it. Watch the sky any time after sunset, and with some luck, you'll spot glowing swirls of green, red or yellow dancing overhead.
Have fun with winter activities
With a whole sack-load of activities on offer, there's no shortage of things to do in Lapland. Learn about the native Sami people's traditional way of life with a trip to a reindeer farm, meet some friendly huskies on a dog-sled ride or enjoy some high-speed thrills racing an ice kart or zooming around on a snowmobile. For a date night with a difference, visit the Snow Village and have dinner in a restaurant made of ice. Or if you fancy the challenge of catching your meal, head out onto a frozen lake to try your hand at ice fishing.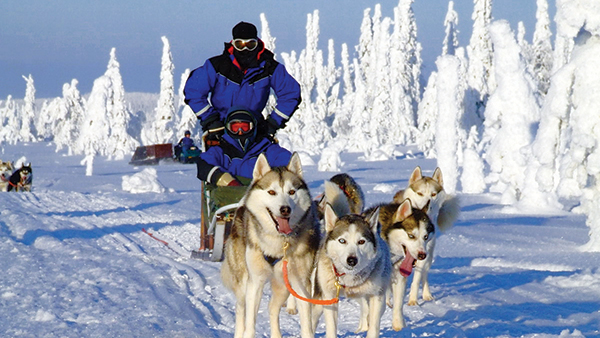 Sample the sauna culture
Finland is famous for its saunas, and warming up in a steam-filled cabin at the end of the day is an important part of Lappish culture. They're traditionally scented with birch oil, which gives off an invigorating minty smell, but other oils are used too. If you're visiting over Christmas, try adding a dash of cinnamon or frankincense oil to the water for a festive twist.
Afterwards, you can do as the locals do and jump into a cold plunge pool or roll in the snow – it might not be for everyone, but the hot to cold transition is linked to a host of health benefits, from reducing inflammation to easing muscle pain. Most apartments and cabins have their own private sauna, so you can easily join in the ritual. In Ylläs, there's even a sauna gondola that you can hire.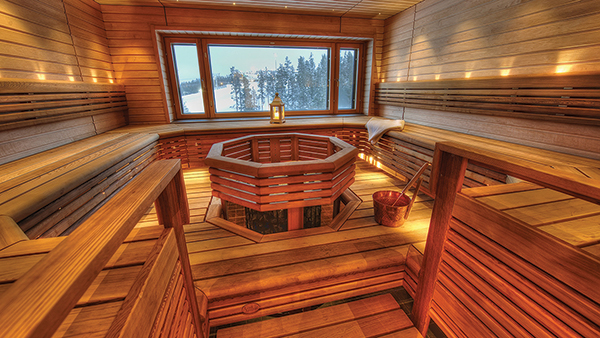 Celebrate the local way
Finnish ski resorts feel even more magical in December, with special events to help you get in the holiday mood. Take a stroll around the Christmas market in Levi and pick up some last-minute gifts from stalls selling Lappish handicrafts. And in Ruka, you can enjoy an alternative festive tale at the Christmas Bird Musical. Originally a school play, it's now an annual tradition with a cast of over 230 local children performing on an outdoor stage.
Whichever resort you pick, lots of restaurants have special Christmas menus so you can sample Finnish food like rice porridge, which is served with a single almond in one of the bowls – whoever finds the nut will have a lucky year. There's also plenty of carol singing to join in with, and of course, Santa is bound to make an appearance too.
Take to the ski slopes
Thanks to the gentle, tree-lined pistes and excellent English-speaking ski schools, Finland is home to some of the best ski resorts for beginners. It's also a great place to try night skiing – daylight hours are shorter here, so most of the runs are floodlit. And from the starry skies to the snow crystals sparkling in the spotlights, there's something extra special about skiing after dark. The lifts stay open till around 7pm, so you can enjoy activities during the day and still get some slope time later on.
Or why not take a break from the lifts and try cross-country skiing? It's practically the Finnish national sport, and it'll give you the chance to explore more of your scenic surroundings.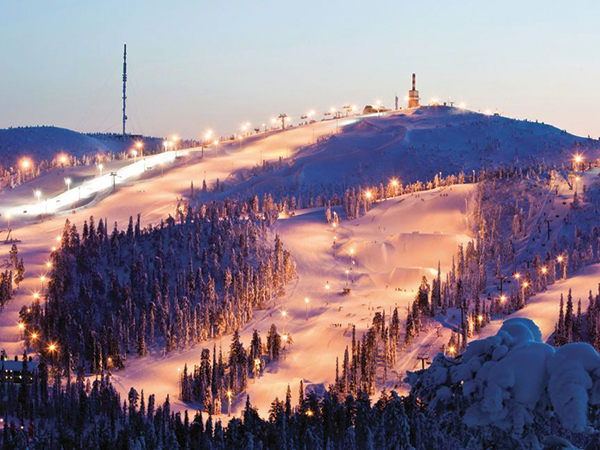 Visit Santa
No trip to Lapland would be complete without meeting its most famous resident. Head to Santa's Secret Cottage, near the resorts of Ruka and Salla, for a sit-down with the man himself. Your little ones will be greeted by elves for games in the snow, before heading inside for stories and hot chocolate with Father Christmas.
Or just a short drive from Ylläs and Levi, the Elves' Hideaway is sure to add some extra Christmas sparkle to your family holiday. Children will meet Santa's helpers and get stuck into baking and making crafts in the Elves' School. And of course, Santa will pay a special visit too.
Eager for an arctic adventure? Start planning your trip to Finnish Lapland.